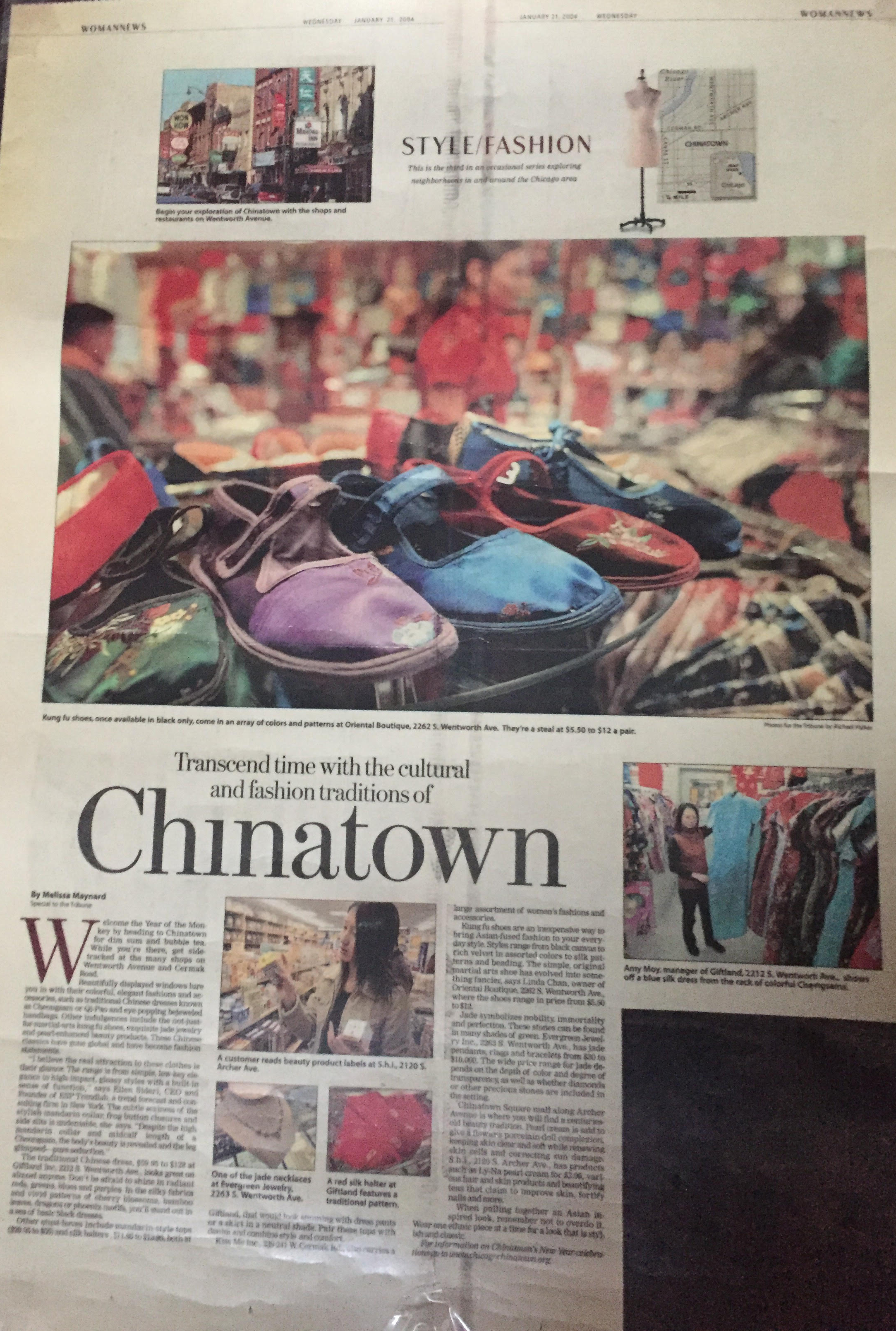 Welcome the Year of the Monkey by heading to Chinatown for dim sum and bubble tea. While you're there, get sidetracked at the many shops on Wentworth Avenue and Cermak Road.
Beautifully displayed windows lure you in with their colorful, elegant fashions and accessories, such as traditional Chinese dresses known as Cheongsam or Qi-Pao and eye-popping bejeweled handbags. Other indulgences include the not-just-for-martial-arts kung fu shoes, exquisite jade jewelry and pearl-enhanced beauty products. These Chinese classics have gone global and have become fashion statements.
"I believe the real attraction to these clothes is their glamor. The range is from simple, low-key elegance to high-impact, glossy styles with a built-in sense of function," says Ellen Sideri, CEO and Founder of ESP Trendlab, a trend forecast and consulting firm in New York. The subtle sexiness of the stylish mandarin collar, frog button closures and side slits is undeniable, she says. "Despite the high mandarin collar and midcalf length of a Cheongsam, the body's beauty is revealed and the leg glimpsed–pure seduction."
The traditional Chinese dress, $59.95 to $128 at Giftland Inc, 2212 S. Wentworth Ave., looks great on almost anyone. Don't be afraid to shine in radiant reds, greens, blues and purples. In the silky fabrics and vivid patterns of cherry blossoms, bamboo leaves, dragons or phoenix motifs, you'll stand out in a sea of basic black dresses.
Other must-haves include mandarin-style tops ($29.95 to $55) and silk halters , $11.95 to $13.95, both at Giftland, that would look stunning with dress pants or a skirt in a neutral shade. Pair these tops with denim and combine style and comfort.
Kiss Me Inc., 239-241 W. Cermak Rd., also carries a large assortment of women's fashions and accessories.
Kung fu shoes are an inexpensive way to bring Asian-fused fashion to your everyday style. Styles range from black canvas to rich velvet in assorted colors to silk patterns and beading. The simple, original martial arts shoe has evolved into something fancier, says Linda Chan, owner of Oriental Boutique, 2262 S. Wentworth Ave., where the shoes range in price from $5.50 to $12.
Jade symbolizes nobility, immortality and perfection. These stones can be found in many shades of green. Evergreen Jewelry Inc., 2263 S. Wentworth Ave., has jade pendants, rings and bracelets from $30 to $10,000. The wide price range for jade depends on the depth of color and degree of transparency, as well as whether diamonds or other precious stones are included in the setting.
Chinatown Square mall along Archer Avenue is where you will find a centuries-old beauty tradition. Pearl cream is said to give a flawless porcelain-doll complexion, keeping skin clear and soft while renewing skin cells and correcting sun damage. S.h.i., 2120 S. Archer Ave., has products such as Ly-Na pearl cream for $2.99, various hair and skin products and beautifying teas that claim to improve skin, fortify nails and more.
When pulling together an Asian inspired look, remember not to overdo it. Wear one ethnic piece at a time for a look that is stylish and classic.
For information on Chinatown's New Year celebrations go to www.chicagochinatown.org.